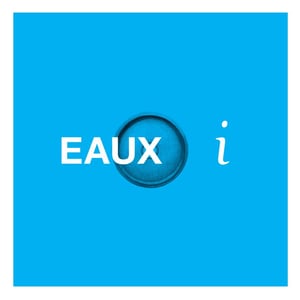 £

8.99
After their acclaimed double A-side debut single 'Luther / No
More Power', Morning Ritual is pleased to announce the release debut EP from Eaux - 'i EP' .
Eaux is the new creation of Sian Ahern, Stephen Warrington and Ben Crook. Forming from the ashes of cult band Sian Alice Group, the trio's music is made up of drum pads, samplers, percussive sequencers, multiple synths, guitar and bass, all cycling in waves beneath Ahern's voice.
Structuring their songs to work with the constraints of the live setting, the trio switch between instruments, sounds and rhythmic patterns. From within this musical framework, Ahern's crystalline vocals effortlessly weaves together understated Pop melodies with elements of folk, 60's bubblegum and psych, early German electronic music and British industrial & post punk, and the analogue era of Detroit techno.
' i ' presents 5 new songs, each structured from an improvisational starting point. With key structures of the song planned out they were left un-demoed instead waiting until they were in front of vintage analogue equipment in a studio before recording anything. 'Maybe it's a reaction against the laptop producer trend,' says Crook. 'All of these songs were sketched out and gigged before they were recorded, which seems quite novel these days. Giving yourself limitations can be far more liberating than infinite possibilities – and much more reflective of the live experience, which is a huge part of what we're about. The only way to capture that noise and electricity, and all of the associated vibe, is to play it live.'
'If we can't play a part live in the room together at the same time, it seems wrong to add in later', says Ahern, whose vocal lines are born of the same improvisational methods as the instrumentation, placing phonetics over the semantic which follow subconscious lines-of-thought towards glimmers of narrative drama - "It feels less thought about, more automatic. For me it was transcendental - trancing out without too much work and effort."
Written in the band's east London rehearsal space in Spring 2012, the five songs were recorded and mixed in London's Tin Room studio in a few focused days.
'Ahern's crystalline vocals guide the way towards oblivion.' Pitchfork
'Sian's unique and mesmerising voice provides the perfect counterpart
for understated pop sounds' Dazed & Confused
"Eerily sultry vocals drifting over breaks and trembles of adrenaline spiked distortion effects. Billowy cloud filled beats build and build as they collide with subtle futuristic notes, like a jet fighter video game in slow motion." Yours Truly SF
'Eaux continue to sound enthralling.' Abeano
'Eaux are the kind of band that deserve to be listened to properly: in pitch black as you sit in private at 1am, giving the music your full attention. It's then that the dark, brooding electronics can take full, gripping effect.' DIY Magazine
'This isn't too far from the sound Broadcast were working on as they
slowly faded out the guitars around the time of Tender Buttons.' PREFIX
"Sian Ahern's vocals wash gorgeously over a soft beat and melody as the song grows steadily to a dreamy crescendo." Dummy
Released November 19th 2012